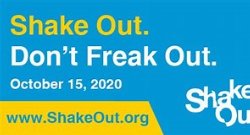 What

The Great California ShakeOut

When

10/15/2020, 10:15 AM

–

10:20 AM

Where

Wherever you are.
The Great California ShakeOut - Get Ready to ShakeOut!
https://www.shakeout.org/california

GET READY TO SHAKEOUT! Start here to be included in the. 2020 Great California ShakeOut! International ShakeOut Day is always the third Thursday of October (this year: October 15). While COVID-19 has brought many uncertainties and challenges, one thing's for sure: ShakeOut is still happening this year! As always, you can hold your #ShakeOut drill when and where you want.